ERE Elite Rifle Updates
Late April 2014
Here comes round two!
ERE Systems is excited to announce our next shipment of FAMAE SG-542 rifles built specifically for ERE Systems and Canada has just wrapped up production and we are expecting it to be on it's way by the first full week of May.
This shipment will be heading to our latest distributor who we will be working with, North Sylva. North Sylva is a well respected distributor based out of Eastern Canada who will be a welcome addition along with The Calgary Shooting Centre out West.
This next run will be entirely black hardware and as well we'll have over 300 magazines coming in to help deal with any backorders (and new orders!). If you've been waiting to get your hands on one of these units, you won't be disappointed and they'll be here just in time for spring!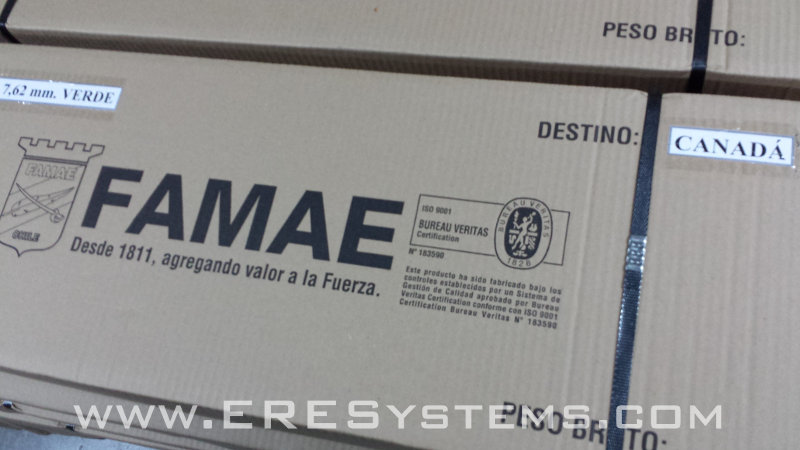 Early April 2014
The best laid plans of mice and men. Over the weekend we just received a new update from FAMAE, right now they are running full capacity for us and still can't quite keep up.
Unfortunately, this means the next shipment is taking them longer than they originally informed us. We're not talking months worth of delays, but rather closer to weeks, so no panicking allowed.
We're doing our best to keep everyone in the community updated so there aren't unexpected surprises or huge disappointments for everyone. That's why we're trying to keep updates coming on a steady basis.
The current updated timeline from FAMAE is that our next shipment will now be ready to ship hopefully by April 27th. That pushes us into May before it likely clears customs. We were pretty fortunate that last shipment went through fairly quickly once it arrived and we hope the same situation occurs, but as we mention at this point it will be the beginning of May before they get here.
Watch for more upcoming updates and photos as we receive them!
Late March 2014
We just received some photos over the weekend of the production, so here they are to keep you in the loop! Again, everything looks on schedule, according to FAMAE, for these to be ready to ship by mid to late April with delivery to Canada late April.
This slideshow requires JavaScript.
Late March 2014
Round Two. We're approximately a month away from our next shipment of FAMAE rifles and we're hoping to see them arrive in Canada before the end of April. If you haven't picked one up yet, you may not want to wait.
We've got two factors affecting upcoming shipments that may have a direct impact on upcoming shipments, fortunately, this orders has been in the queue for a while and shouldn't be affected. The first factor is a shortage of steel for the manufacturing.
This shortage is causing orders not already in place to be pushed back significantly. Without steel, they simply cannot build and are unable to add new orders until they are sure they will be able to fulfill. Fortunately for ERE, all of our orders have been queued up since the beginning of the year, guaranteeing we will see our production runs first.
The second factor is the weaker Canadian dollar and this one may be even more impactful. All the orders are purchased in US dollars, again fortunately for ERE, we placed our orders early this year for the rest of this year and into 2015. That has allowed us a fixed price (so far) and to set aside the funds required in US accounts.
At least for our initial order and the upcoming one. Rules do tend to change when dealing internationally!
Orders after this may be directly impacted by our weaker Canadian dollar and may cause prices to actually increase by 10% or more from when we had a dollar that was slightly below par to where it is now. As we move forward we'll be able to update you more, but your heads up for now is, don't wait, if you do it may cost you more!
February 20th – Cleared & Delivered!
If you haven't heard, the rifles have arrived and were delivered to The Calgary Shooting Centre a little before noon today.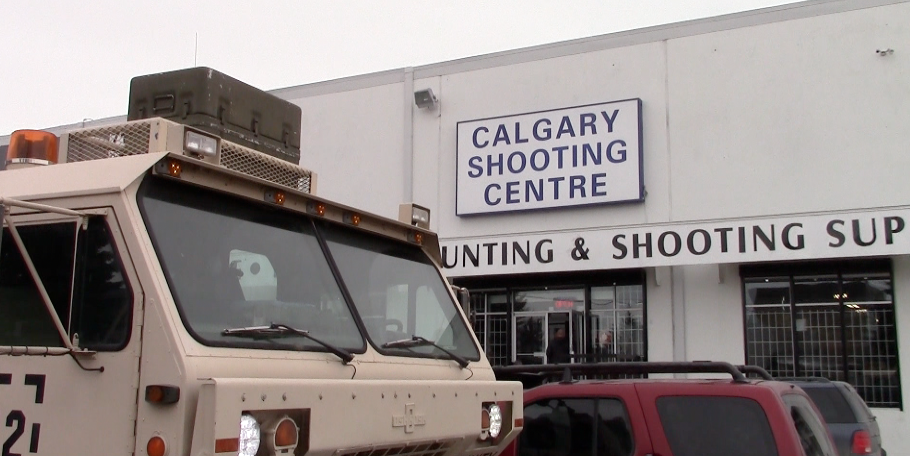 There were already a couple people there to pick up when we unloaded, so we know they will be going fast. If you've already placed your name on the list, great, if you haven't please contact The Calgary Shooting Centre ASAP!
Thanks everyone for your patience with this.
February 18th
OK, here's where we sit. The shipment is in Calgary, it is at customs and we are just a couple days away. We all know how excited we are to see these rifles and can't wait to get them out to everyone, but customs has a process. And that process involves inspecting this shipment.
We are hoping that's finished and everything gets properly stamped and approved by Friday morning allowing us to get the shipment dropped off to The Calgary Shooting Centre sometime Friday afternoon. We've filled up the truck with fuel, made sure it's in peak operating condition and now we're sitting with anticipation waiting for the call. It's almost like Christmas.
Oh, here's our truck…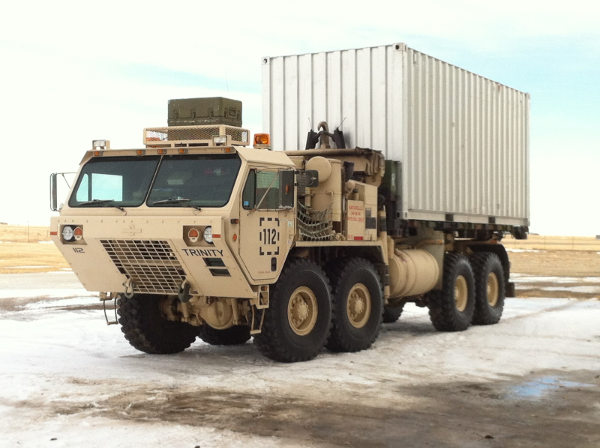 Mid February
The Eagle Has Landed!
Many of you have been asking if the rifles have left  Chile yet and we have confirmation they have arrived in Toronto. They should be in Calgary in the next several days and then it needs to clear customs here locally. We're hoping it clears fairly quickly and will update you as we get more updates!
We are no longer thousands of kilometres away, but the next week will seem to take forever!
Early February
Sigh.
First off our biggest apologies for all these delays. While we are definitely frustrated, I know the gun community is feeling it as well. As we previously updated you, the rifles are ready. They are sitting in Santiago in Chile, but every time we think we have things moving forward, they move the targets.
The rules and the timelines in foreign countries are significantly different than they are in North America along with how things get done. Deadlines are more like guidelines and time frames are suggestions.
In the last six months we have resubmitted our export paperwork to the Chilean authorities twice (it was misplaced down there once), we've double checked schedules (and they still get delayed), we've triple checked freight quotes and verified delivery times (only to get the freight quote increased by over double the day before the original shipment date) and now we are running into vacation time in Chile.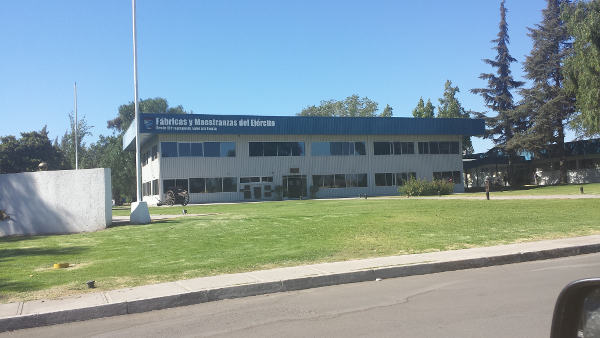 It's summer time in Chile and we've been advised "most people are on vacation". We didn't think this part of the process would be quite as difficult, but apparently to ship arms in Chile from the factory you need everyone from various customs people to senior management to government officials to sign off, and then once they all sign off, you have to coordinate a police escort to deliver the rifles to the custom inspection facility before it gets put onto the actual aircraft.
We're telling you all this not as an excuse, but partially just so we can vent. We're officially two months behind our original expected delivery date and while we're not happy about it, we're even more unhappy you aren't able to see the finish product that we are so excited about, yet.
The good news is that all of these problems have allowed us to be even better prepared for subsequent shipments, plus it will be Fall/Winter by then. We are still committed to bring these rifles in to Canada and we are positive you will be as excited with the finished product as we are.
With the extra time and energy we put into engineering improvements to several areas of functionality of these rifles, the final product will be a unique product to Canada and FAMAE has already expressed interest in using some of our modifications to improve future runs for both Canada and abroad.
For anyone who took the opportunity to try out the sample rifles (and we know many of you who are on the list did just that) at The Calgary Shooting Centre, we're positive you will be suitably impressed with the refinements to these wonderful military based rifles. Basically, your patience will be rewarded!
So, currently we are on track to be on an air shipment next Wednesday the 12th of February from Chile, our fingers are crossed there are no more "issues" and everyone who is required is back from vacation on Monday and Tuesday when paperwork needs to get shuffled and approved down there.
To carry you for a few more days, here's another shot (albeit fuzzy) of the boxed and ready product.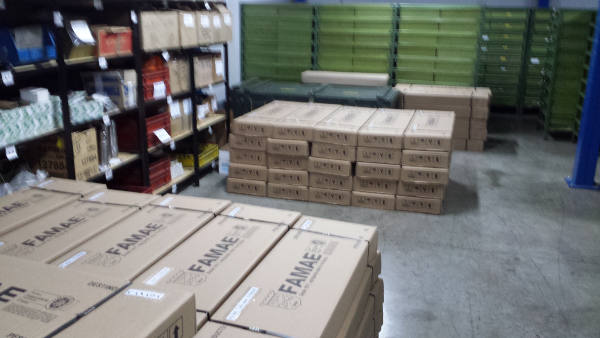 Late Late January –  So Close Yet So Far
10,306 kilometres far to be precise. Unfortunately, we have run into issues with the freight forwarders in Chile. We discovered Friday they have decided to change the rules and have been feverishly trying to line up a back up forwarder.
We're stuck with our product sitting at the loading dock over 10,000 kilometres away knowing how disappointed everyone is that they haven't arrived yet and our hands are tied. I'm hoping I can resolve something yet today, but even if I do, it's highly unlikely anything will ship before Friday.
This leaves us looking at the first week of February, fingers crossed.
Late January
Here's a quick preview of our upcoming aftermarket stock. It's not the final revision, but we're getting pretty darn close! It might just me minor changes and then off to production.

Mid January – Shipping Dates
Here's the latest, the product is sitting waiting for the next air shipment to Canada which we have confirmed is Friday January 24th. It should arrive in Toronto the next day and then be forwarded onto Calgary for the 26th/27th where our final hurdle Canada Customs comes into play.
With any luck and some fortitude we should see product in place before January ends. It feels like this has taken forever, but we are so close and we appreciate your patience and are sure you will be very happy with the result!
Early January 2014 -2
Some minor hiccups and some good stuff. First due to some local conflicts we've lost access to a large portion of the extra magazines that were coming in the shipment. We're hoping this is fixed in the near future.
The good stuff now, a couple more tweaks on the upcoming after market stocks. Here's the image of the latest version.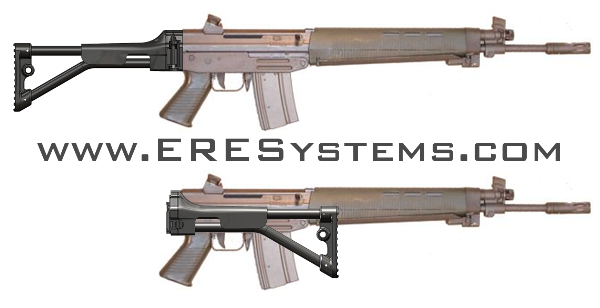 Early January 2014
EXPORT PAPERWORK IN PLACE!
It's true, just before the weekend we received confirmation from Chile all paperwork is in place and they should be Canada bound shortly. One of our representatives is currently in Chile and will be at the factory Wednesday January 8th for final inspection.
This puts the ETA to Calgary as officially the 20th of January due to timing and schedules now.
The next hurdle once they arrive is how quickly they clear Canadian Customs. We're hoping this is a quick turn around, but we will update you once they arrive. We should also have more updated pictures over the next week or two as well.
Christmas Eve Update
Well, we just fell short of a happy Ho Ho Ho. The FAMAE rifles are all nestled in their boxes after lining up for inspection before Christmas, but they simply won't make it here yet this year.
FAMAE tells us everything is apparently ready, now it's just a few more days before we actually see them. So again, rather than have them get stuck in customs during the holidays, we will get them shipped via air freight right after New Years and they should be ready for delivery after clearing customs and inspections either the second or third week of January.
Thank you for your patience, we've tried to be as transparent as possible with updates, deliveries and our plans and we're very disappointed we ended up a month behind, but it happens when dealing internationally and we are now so very close to seeing them arrive. So to help you get through the rest of the holidays, here are the latest pictures directly from the FAMAE factory in Chile!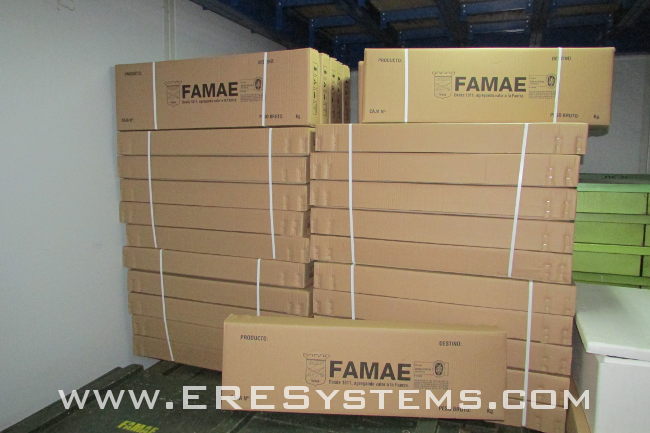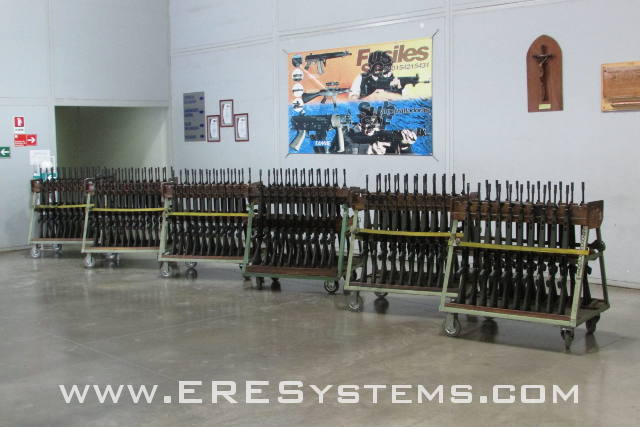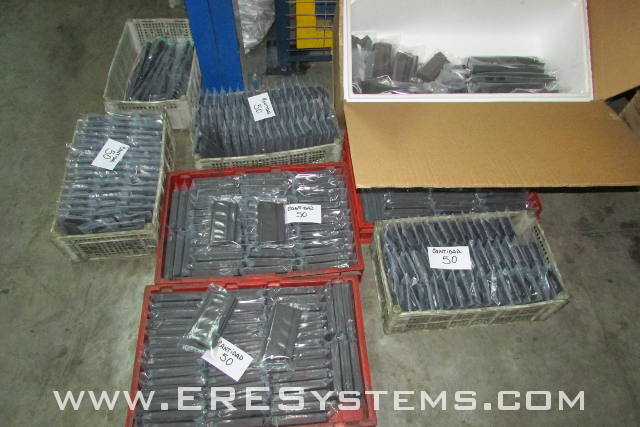 Second Week of December
Still no update on if we can get these rifles here before Christmas, it's going to be tight!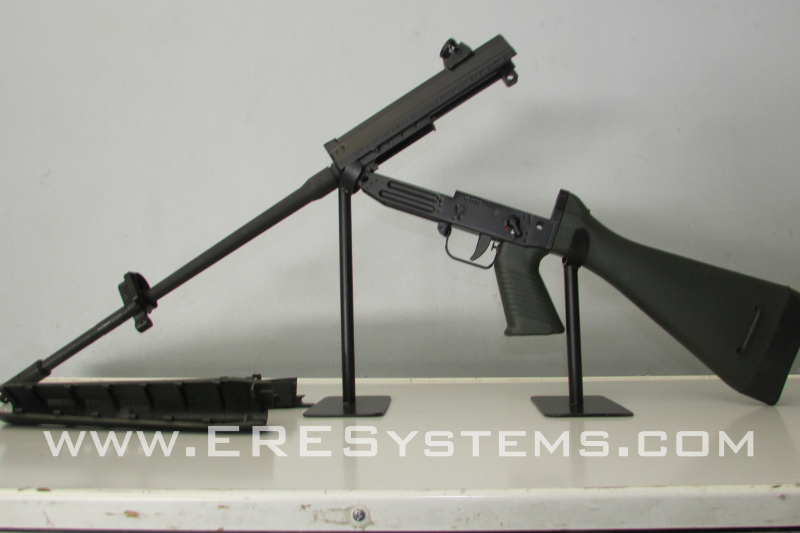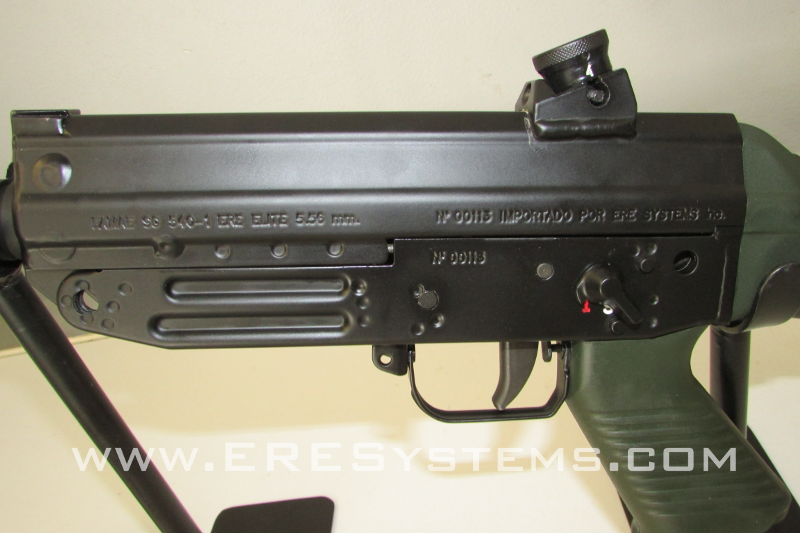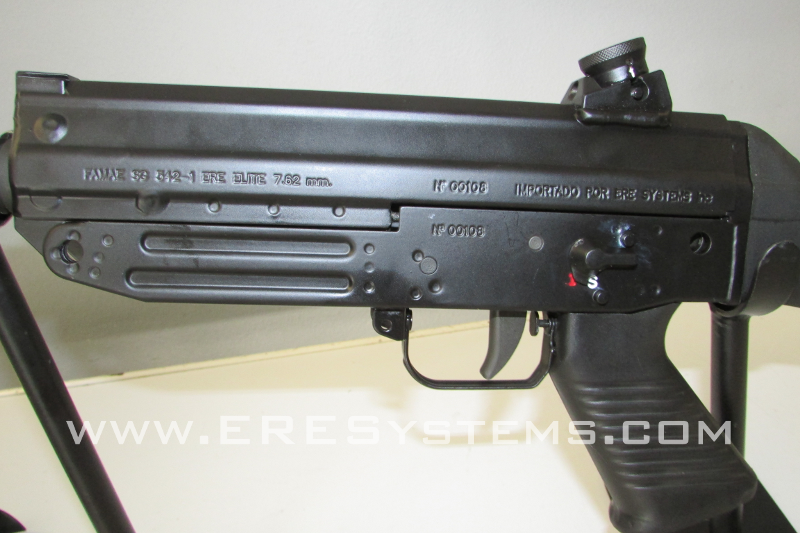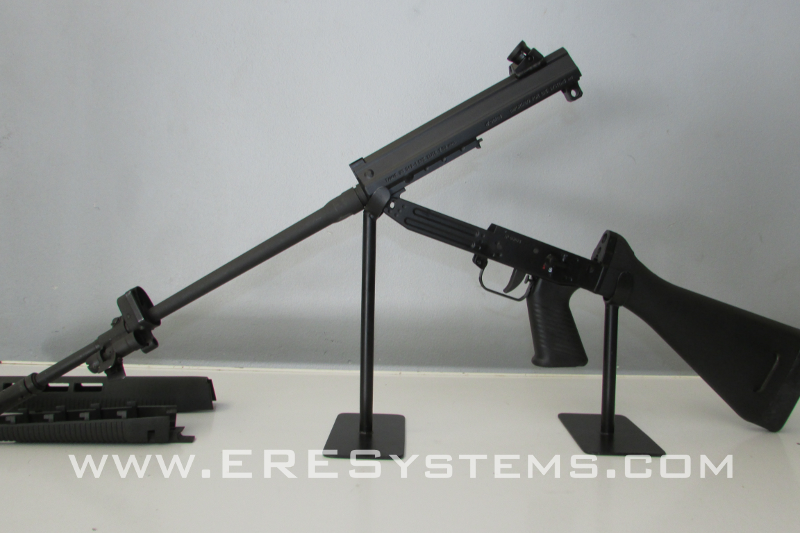 First Week of December
Good news and bad news. First the good news, FAMAE has released the serial numbers to us, although it really isn't much a of a surprise. The FAMAE SG-540-1 ERE Elite will be serial numbers 00100 to 00120 and the FAMAE SG-542-1 will be coming in with serial numbers starting at 00100 and ending at 00203.
It's exciting that we have these as it tells us they are just around the corner which leads us to what might be a tough call.
We've been anticipating receiving these rifles any time since the last week of November, but here we are at December 7th and they still haven't shipped from Chile. We are getting them shipped as expedited as possible, but we're facing a huge dilemma.
If they haven't shipped before the end of next week, we may have to delay delivery until possible the second week of January. We're facing two challenges here. Due to the size (and type) of item being shipped up from South America, customs is extremely thorough with inspections, paperwork and processing.
If the rifles arrive after the 20th, they may not even get inspected until after Christmas. With Christmas falling in the middle of the week and New Years the middle of the following week, it is entirely possible they will sit in secure storage for up to two weeks before the inspection even starts.
With all the items coming through around the holiday season and the huge overflow of paperwork, it's far to easy for one important piece of paperwork to get misplaced. This could add not just one or two weeks to processing it, but up to a month which just makes things worse.
Our dilemma basically becomes, allow them to ship after the 13th, hope it processes before the 20th and is in our hands or tempt fates and it gets stuck in lockup until potentially mid January to early February. Or wait until the first week of January and have them here in The Shooting Centre by the end of the second week of January?
If they ship in the next several days it won't be an issue, so keep checking back and once we get updates we will pass them right through to you here on the site!
Mid November 2013 (II)
We've been getting inundated with inquiries about chrome lined barrels on the SG series of rifles. Since none of the units we have received so far came with chrome lined barrels, we went straight to the factory to get to the bottom of this.
FAMAE themselves has informed us that they have never supplied any of the FAMAE SG series rifles with chrome lined barrels and in the near future there are no plans to make this happen. On the positive side though, production appears to still be on track.
ERE Systems had hoped to receive our first orders before the end of November and while there is a chance this could happen, the beginning of December is when everyone with pre-orders at The Calgary Shooting Centre should see these rifles arrive.
Mid November 2013
ERE systems is excited to be adding another Canadian distributor to provide even better access to the FAMAE SG Series of rifles in Canada. Starting in the second quarter of 2014 North Sylva will have access to the entire ERE Elite line of rifles to distribute in Canada.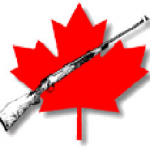 This arrangement will help those in the gun community located in Eastern Canada to have easier access to this fine line of rifles and will streamline getting the products to market.
Currently ERE Systems is the only authorized importer of the FAMAE SG series of rifles into Canada and with demand reaching a feverous pitch, North Sylva will help ease this demand. By bringing in the SG-540-1 ERE Elite rifle, the SG-542-1 ERE Elite rifle and the SG-543-1 ERE Tactical Elite rifle during the second quarter of 2014 shooting enthusiasts who have been eagerly waiting will be able to get their hands on these fantastic Chilean rifles.
Early November 2013
We're just weeks away from seeing our first shipment of the FAMAE SG series of rifles and it's starting to get a bit exciting. All indications are manufacturing is on track and we should have delivery of our first shipment well before Christmas to our distributer The Shooting Centre.
Unfortunately due to huge demand, the next shipment we won't be see until potentially mid to late spring 2014, so if you haven't put your name on the list with The Shooting Centre yet, don't wait or you will be waiting for what will feel like a very LONG time.
Also, to go with this I have some updates on the new stocks that people are already asking for! Take a look at the images below. Pricing isn't set yet and we are working on deliveries, so if you want that totally custom look on your rifle, you will also need to talk to the folks at The Shooting Centre.
Take a look and don't forget to check back soon as we'll be making another exciting announcement for something coming in 2014!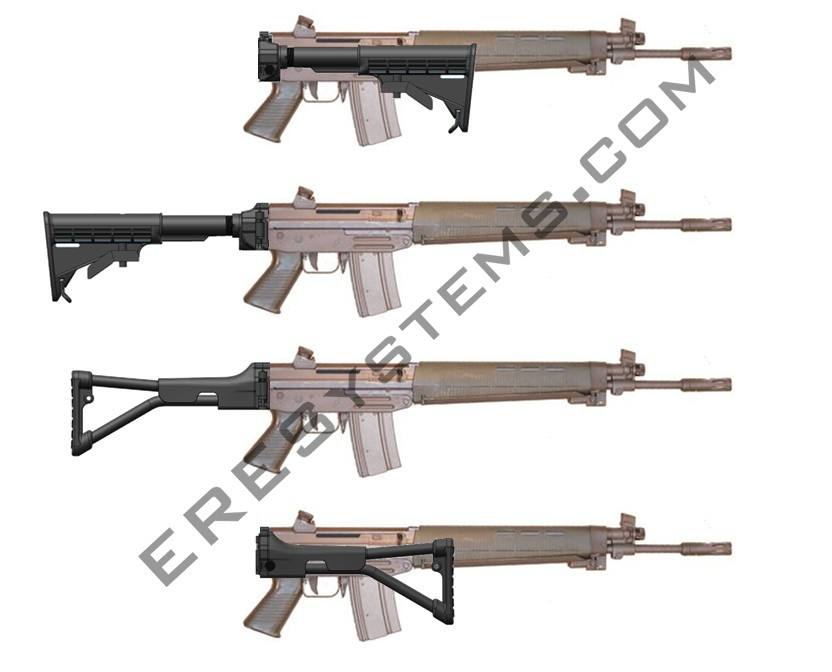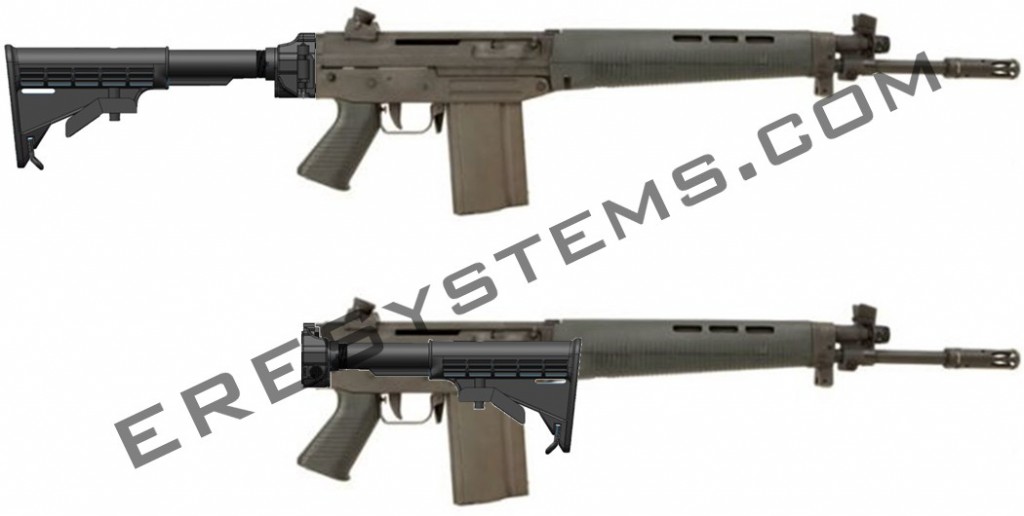 Late October 2013
It appears manufacturing at the factory is moving along nicely. I just received another picture of where we are at today and I'm excited to see the progress. Since these metal pieces are all hand made it does take time and it's not a matter of simply using casts and pouring molten metal in.
FAMAE folds, welds, and stamps along the way which takes time. But when they're done, the end result is worth it so we're hoping you're starting to get as excited as we are for delivery! Here's the latest image of the FAMAE SG-542-1 ERE Elite in production! Note the serial number, lucky 100!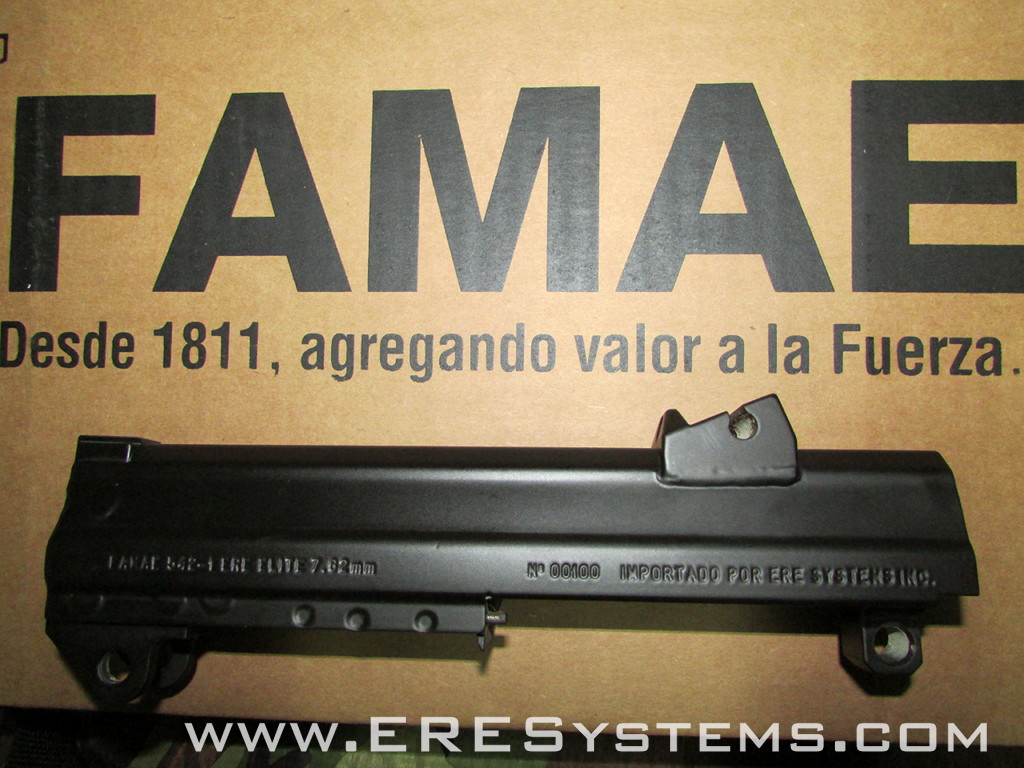 Mid October 2013
We're working on a couple options for some aftermarket stocks for the rifles and have the latest images in. Note these are not finalized yet, but rather a proof of concept of what we are looking at, and what fine proof it is!
Also, we've been in contact with the factory, things are still on track, hoping to have new images from them by late next week. In the meantime, enjoy the folding stock images. Feel free to leave any feedback at the bottom of the page.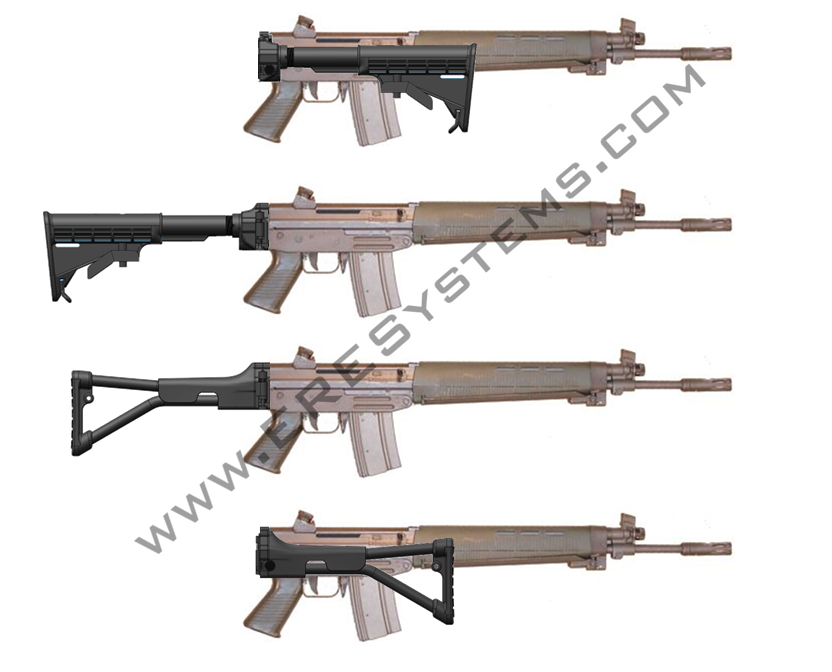 Early October 2013
Just a quick update for 2014, we've just received confirmation on our orders for our 2014 deliveries. If you haven't added yourself to a list of suppliers to get notified of your interest in the upcoming shipments, you may want to jump on that. Production runs are getting filled quickly which is why we are so excited to get our confirmation.
The majority of units coming in are already committed to, and while typically there are people who will cancel before they arrive, there is no guarantee there will be extra stock. We should have a few more exciting updates over the next several weeks, so stay tuned and check here for updates.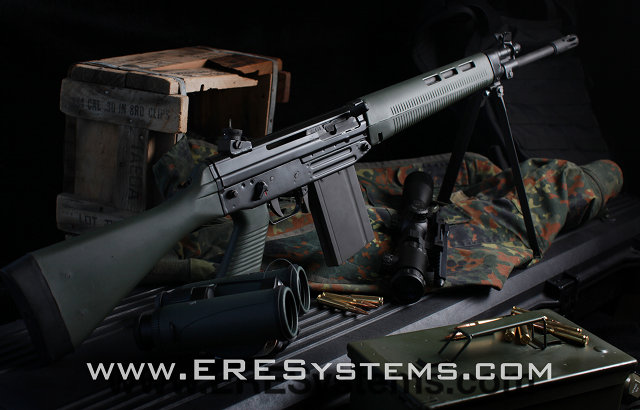 Late September
We're working on an after market stock for the rifles, stay tuned for pics and updates, but the initial response has been very positive…
Here's some sample images of the stock we're working on,

Mid September 2013
Slight hiccup with Chilean export paperwork may have pushed times lines back a week or two (the paperwork became misplaced, but backup copies have been sent). Fortunately this didn't slow down production of the ERE Elite Rifles, just added to the bureaucracy.
Here are the latest photos of production, as you can see, we're getting closer with parts actually becoming identifiable. In an effort to improve the SG-54x series, ERE Systems has incorporated a couple of improved design concepts.
You can see both of these below. The first two images are the new trigger pack design for the SG-540 which is closer to the more effective SG-542. The third image is for the improved bolt stop increasing the smoothness of operation on all the rifles. These improvements lead to this rifles overall reliability.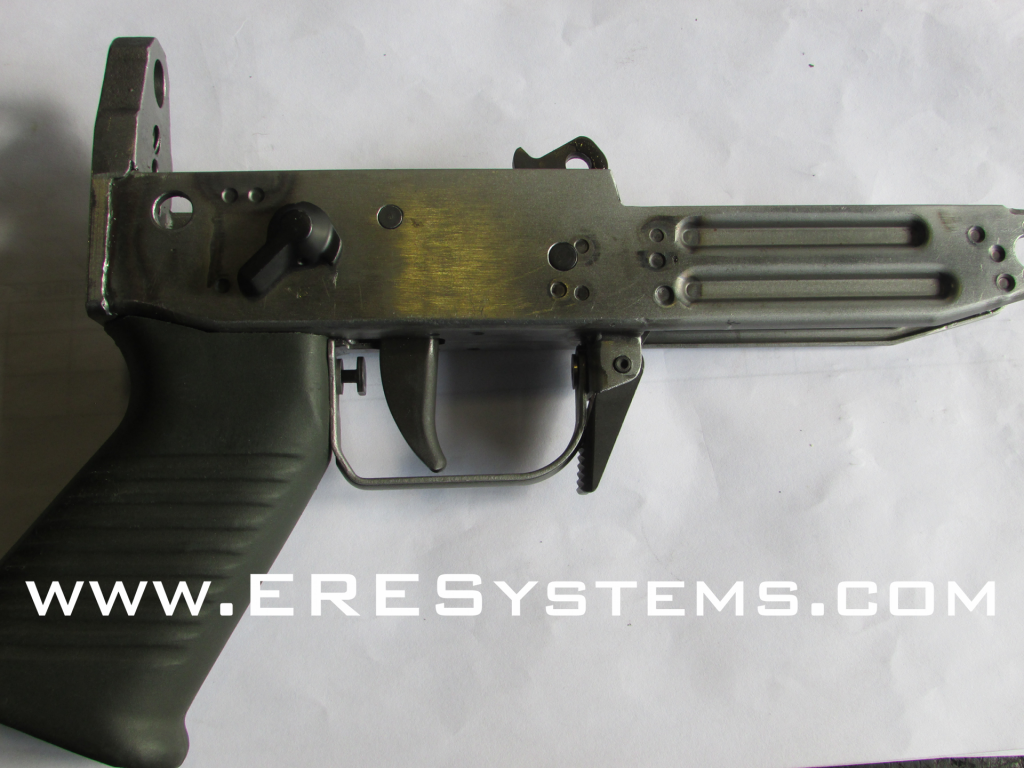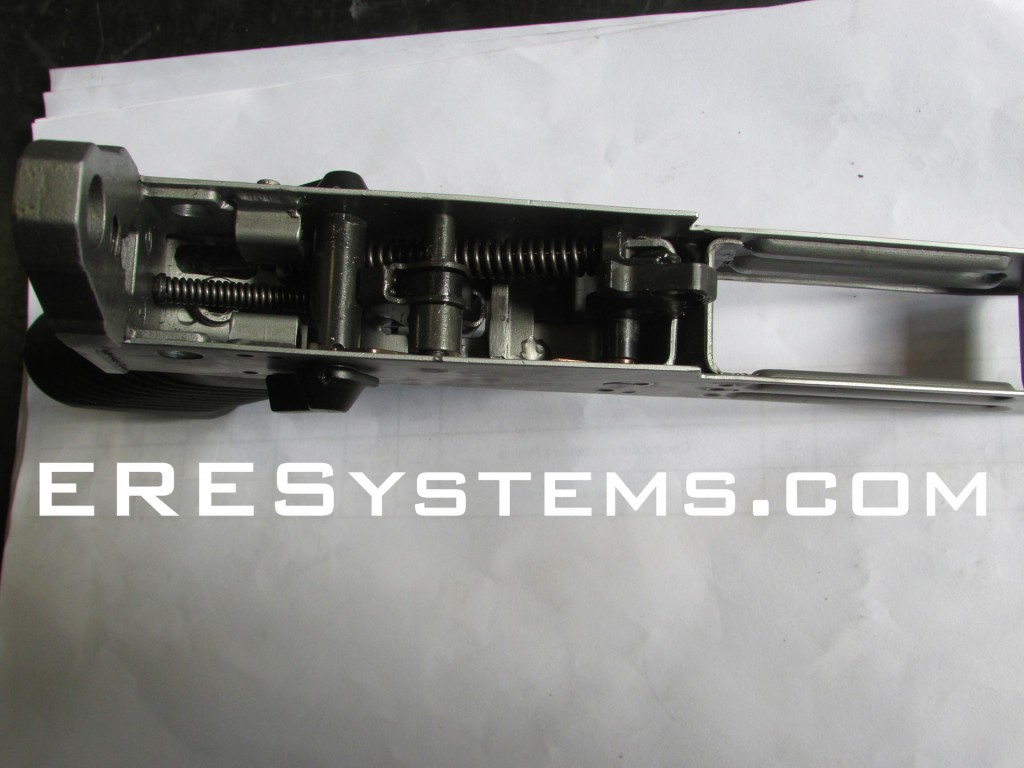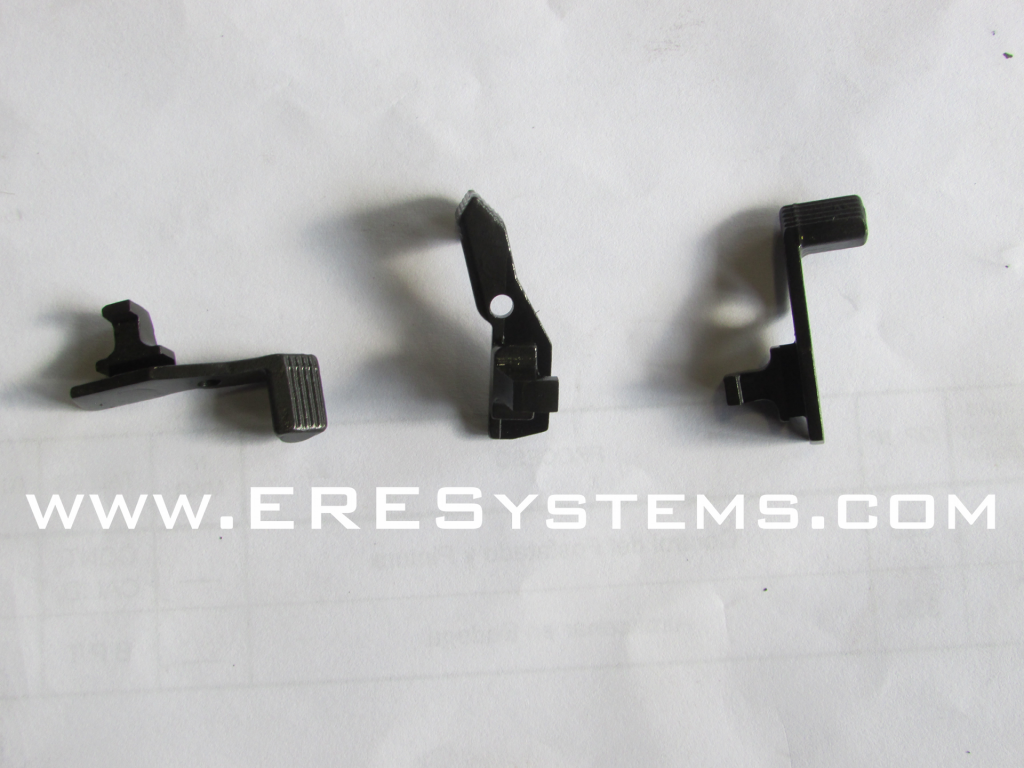 Late August 2013
FAMAE has sent us initial images of our production run. Timelines still look good for late November/ early December, fingers crossed. Check out the images below;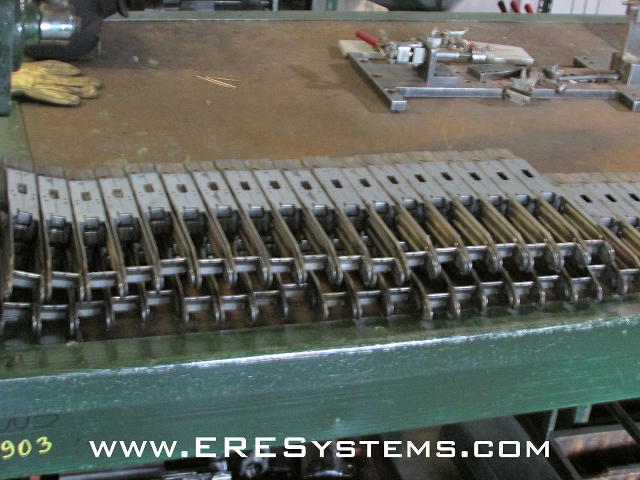 August 2013
ERE Systems has received import approval for the SG-540-1 ERE Elite rifle, the SG-542-1 ERE Elite rifle and the SG-543-1 ERE Tactical Elite rifle and production will be starting shortly in Chile. Without this import approval, nothing gets started as without this import approval, there is no guarantee the finished product can be delivered.
With the import approval in place, FAMAE has indicated a delivery timeline of approximately 90 days potentially placing shipment from Chile in late November. Remember this is Chilean timelines, so we hope to see this delivered by early December and available for distribution then.
Late July 2013
Purchase orders are in place, now we're waiting on import approvals, which takes us to the next step export approvals. Yes this is a long drawn out process, but we're moving forward. Still looks like late November, early December delivery
Early July 2013
With ERE's FRT numbers in place, we're moving to the next stage of getting our purchase orders in place and starting the import approval process. The actual process of purchasing, manufacturing and receiving rifles from a foreign country can take from 90 days plus once you have the FRT numbers.
June 2013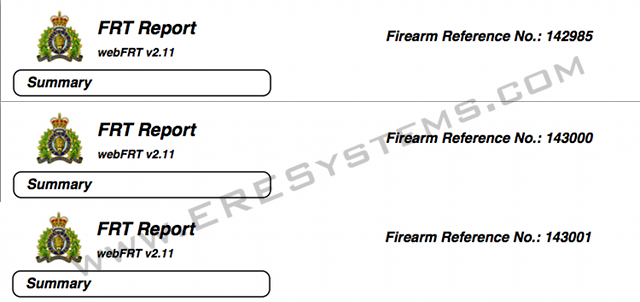 ERE Systems received the FRT numbers for the trademarked line of ERE rifles. This included the SG-540-1 ERE Elite rifle, the SG-542-1 ERE Elite rifle and the SG-543-1 ERE Tactical Elite rifle all manufactured by FAMAE of Chile.