SIG Classic Rifle Accessories
SIG Classic magazines a tad expensive for your tastes? Interested in a way to get those costs down so you can enjoy your rifle more often? Would AR Mag compatibility interest you then?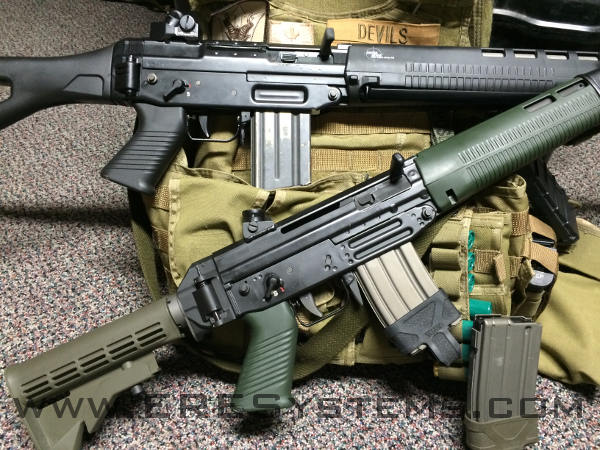 Then do we have the product for you! It's true, now ERE Systems will be offering the same mag block conversation used in the ERE Elite SG line of rifles for the SIG classic line of rifles!  Convert your Sig over so it uses AR15 mags and start getting some actual enjoyment when shooting without the high cost!
We now have the first batch of these units in stock and will likely be through them quickly, so be sure to get your orders in ASAP.
Priced at only $245, after purchasing only a few of the lower cost AR mags you'll have more money in your pockets than a bunch more SIG mags, so get your order in now!
Frequently Asked Questions
Is the conversion permanent?
No, you can convert it easily back to SIG mags by removing one screw which uses the single centre hole in the front of the receiver.
Will it work with all AR mags?
Depending on the type of magazine it should work fine or you may have to make a slight modification to the feed lip which can easily be done with a Dremel or with slightly more effort using a file. We find all metal mags work, the issue with plastic mags is the feed area is often too small. We will be providing details on how to resolve this so all mags work.
Does this work on metal and plastic mags?
So far, all the metal mags we have used in the testing work fine, the plastic ones do typically require some modification of the feed lip.