SG-54X, FRT's and ERE – A Clarification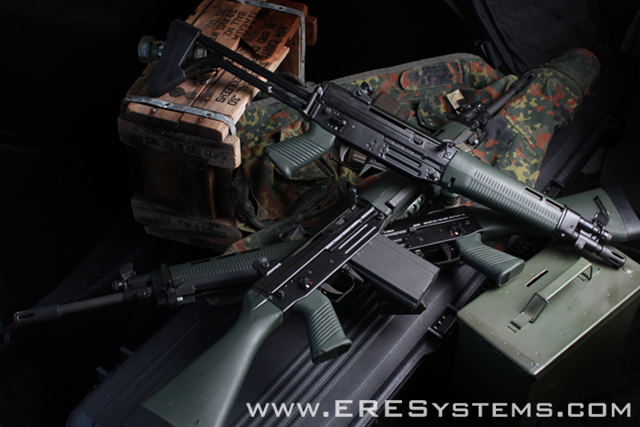 Anyone who has been following some of the recent information that's been released about the new FAMAE rifles coming into Canada should read this.
The SG 540-1, 542-1 and 543-1 Confusion
Currently ERE Systems has the exclusive rights to the SG 540-1 ERE Elite rifle, the SG 542-1 ERE Elite rifle and the SG 543-1 ERE Tactical Elite rifles. The names in bold are trademarked specifically to ERE Systems. There will be at least one other importer bringing in the FAMAE SG 542-1 potentially later this year, but we hold specific rights to the names in bold and the accompanying FRT numbers.
FRT Status's
As of July 14th, 2013, ERE Systems has FRT numbers for all of the 54x series rifles listed in bold above. These FRT number's are as follows:
SG 540-1 ERE Elite Rifle = FRT No.: 142985-1
SG 542-1 ERE Elite Rifle = FRT No.: 143000-1
SG 543-1 ERE Tactical Elite rifle = FRT No.: 143001-1
To our knowledge, again as of July 14th, 2013, no one else currently has FRT number's yet in Canada for the SG 542-1 rifles from FAMAE (Updated March 4th, a new FRT # has been issued to another distributor for the SG-542 line only, but not the ERE Elite version that we have) . For the FAMAE SG-540-1 and the FAMAE 543-1, we understand we will likely be exclusive for these models in Canada for the next 12 to 18 months due to the time it will take any other importer to get their rifles approved with FRT's.
ERE Systems Inc.
ERE Systems has been working on getting the appropriate approvals and testing completed on the SG-540-1, SG 542-1 and SG 543-1 dating back to 2011 now. During this time we have put considerable effort and expense out to ensure we have followed all the proper procedures and received the proper trademarks on our products.
At this point our sole source of sale of distribution to the Canadian channel is via The Calgary Shooting Center and as soon as we have solid updates on pricing and deliveries you will be able to obtain updates through both them and this site.
We have added a second distributor who will be coming on line in late March/early April. We thank you for your patience in this regards and we look forward to you enjoying these fantastic rifles as much as we do.